This whole crazy journey started with a phone call in early October, 2017. I was pumping gas when Peter D'Amico called. I do some background vocal work in his studio from time to time and had been working on an album a local Native Artist, Wendy Walker, was recording.  She had asked me to put together a group with her, one like never before, of a Native Woman and a Non-Native Woman, singing traditional Native songs in Cree and Ojibwe. I was so very honoured and intriguid, and after careful consideration, jumped at the chance. We called our group 'Reconciliation'.
Peter also manages a young Native Man, Dallas Arcand, Jr., a Hoop Dancer/Flute Player and Motivational Speaker, who had been invited to perform at the Winter Olympics in South Korea. He had previously performed at the Olympics in London, with his father, who is also a Hoop Dancer. Interestingly enough, he had room to take a couple of other artists with him and had invited Wendy to go. Little did I know it was going to be a whirlwind that sucked me in, as well! That's when I got the phone call. We weren't allowed to tell anyone until the tickets were bought and in hand. Can I tell you how hard that was??? LOL

To begin, I'd like to thank each and every one of you that made this trip of a lifetime possible:

Shane McCrae - without your love, support and belief in me, I'd never have gotten where I am, musically and vocally. You help me to be more. You've stood beside me, cheering me on and motivating me when I've needed it. And you stayed with our Poopers for me while I got to go sing one of your songs to the world. Thank you.

Peter D'Amico - you and your studio are the hub of this whole thing. I'd have never met Wendy or Dallas. I'd have never gotten to sing some of the very cool things you've invented and encouraged. Thank you.

Wendy Walker - you gave me an opportunity not afforded many, to sing the songs of your incredible, brave and beautiful ancestors. In your native languages. I have been so honoured by this opportunity, and the singing of these songs has filled my heart in a healing way all it's own. Thank you for trusting me with the singing of your songs. Thank you for allowing me to try to help facilitate the healing of all peoples through RECONCILIATION.

Dallas Arcand, Jr.- without you, this opportunity would have never presented itself. Your Hoop Dancing and Motivational Speaking has opened many wonderful doors of opportunity that have taken you to some pretty cool places. Thank you for inviting us share in the experience of representing Canada. I am still so impressed with how you learned Korean so quickly! Thank you.

Ron Leitch - you made me the most incredible head-piece to complete my outfit! It is amazing and I am so blown away by your talent! It took my stage wear over the top. Thank you.
And to all of my Family and Friends and Supporters for all the incredible outpouring of love and support that helped costume, clothe, carry and fuel all the needs that arise when presented with the chance to go to the Olympics!   I could have never done this without each of YOU! THANK YOU!

                              

**********************************************************************************

Day 1, Thursday, Feb 8, 2018:

Which, in reality, was really Day 1 into Day 2 because we lost a day going..... too early to brain-wrangle that one....
We left for the airport at 6:30am. Of course, the weather decided to be VERY snowy. In fact, a blizzard. Our plane was late taking off from Calgary to Vancouver for the first leg of our journey. I was already nervous enough and hadn't slept but a few hours in several nights. Wendy and Dallas had gotten to the airport a good bit earlier than Shane and I and had found a great place to sit out the wait. I nervously watched as the flight crews de-iced and re-de-iced all the planes taking off. When I was a little kid, I loved flying. My family used to fly a lot, with all the moving and my dad being in the Air Force, so the trepidation regarding flying that's set in as I get older rather bothers me. It was in full swing today. But still, there was much excitement underlying it all. It still had not set in that I was on my way to South Korea. The flight to Vancouver actually turned out to be a good one, and very short. We barely made it to the connecting flight to SK, but they told us not to worry, they were holding the plane for us in Vancouver as everyone on the plane from Calgary was going to SK. We all sprinted to the waiting plane which took off right away upon our boarding. We were actually on our way!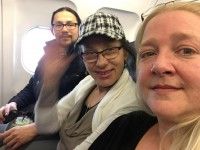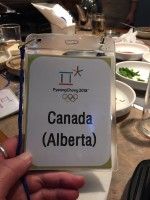 The flight to South Korea, landing at Incheon Airport, was 11.5 hours, and uneventful, which was a great relief. I was impressed with how smooth the flight was and how advanced the whole process has become, even though it could have been a bit roomier for us tall people (grin). I still couldn't sleep, so I read. Thank goodness for Diana Gabaldon! There were quite a few people on the plane heading for the Olympics. The people in front of us and those to our left actually had family members competing, so the excitement was all around us.
We lost a day, somewhere over an imaginary line on the globe and upon landing in Seoul; it was about 5:30 on Friday night, February 9th. Time to get our first look at Seoul!
We found our guide/interpreter, Lara. It was a thrill to walk out into a huge, crowded building, people rushing all around and see someone holding a sign saying "Alberta, Canada".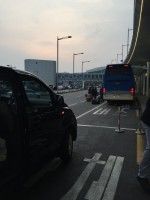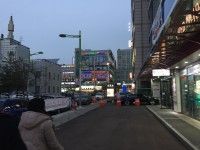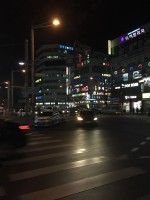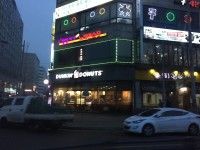 We were really here! Lara got us all loaded up in the van we'd be traveling in and took us to dinner, our first real Korean meal. The small restaurant was located on the 3rd floor of a nondescript building - this is very normal in Seoul, many buildings have different restaurants on each floor - The restaurant was separated into different sized rooms. We just walked in and found a room and then they started bringing food. There were 2 gas burner set-ups on our table and the server put these large, flat-ish pans (reminiscent of a wok but flatter and not as deep, curved up on the edges) on the burners; they were full of lots of very thinly sliced beef, straw mushrooms and other things I did not recognize. Side note: No one was informed that I am vegetarian. Not for the plane trips, nothing. Things were about to become a whole lot more interesting!
Our guide, Lara, was kind enough to get me something vegetarian, for which I was very grateful. It was a rice bowl with all sorts of interesting things in it, one thing of which I was sure of besides the rice: a fried egg. That particular dish was called"Bibimbap", which interestingly enough, means mixed rice. Meals are a communal affair; everything is served in little tiny dishes out of which everyone eats with their chop sticks. You get your own bowl of rice and then you just eat! The utensils are pointy metal chop sticks and a long-handled spoon. Everywhere. This is the one country that it isn't bad manners to stab a piece of food with your chopstick. That's why they're metal, I was told. The meal was very good.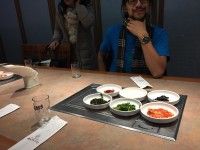 Bellies full, we settled in for the 3 hour trip, by van, to the Del Pino Resort, located in Sokcho, a resort place that is very reminiscent of some areas of Banff.
It was dark, but many creative light/art/displays are on the walls and noise barriers and tunnels on the highway, many of which were a see-through material, which tended give the road an impression of openness. There were lots of tunnels. We found out that 72% of Korea is mountains, so that made sense. There were also many bridges, each a stunning work of architecture.
When Wendy and I got to our room, we couldn't figure out how to turn on the lights. It was becoming quite comical when we finally got a call from Dallas, who was laughing, because he knew we hadn't figured it out yet. Turns out there's this little pocket right near the door you have to slide your key into, and it stays there while you're there, that makes the lights work. Haha
We had a very nice balcony view of the front of the resort, which was decorated with a light display - a teepee, a waterfall, a giant bear, a tunnel of hearts....and a huge Stone Henge. Or a partial Stone Henge. It all went very well with the gigantic, fully decorated Christmas Tree in the lobby.
After exploring our room, it was time settle in and try and sleep. 6:30 was going to come quickly and way too early....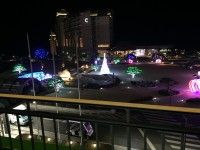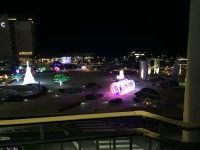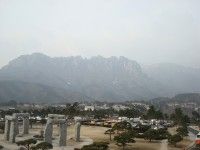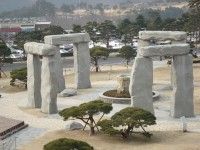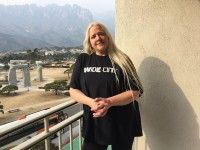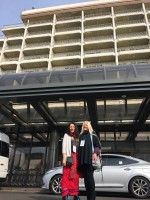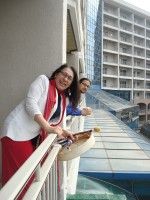 Day 2, Saturday, Feb 10, 2018:

Saturday morning....After a night of very little sleep and lots of snoring when I did, according to Wendy, we hit the breakfast buffet at 6:30am. We had just jumped out of bed and gone down to breakfast, in sweats and our hair all up.....yes, just right out of bed! Everyone else at breakfast was dressed to the nines. Hair, full make-up, lots of business-type clothes and the young school girls in their uniforms. Totally unexpected. I felt a bit under-dressed, but no one was rude, in fact they were all super friendly.
The Russians were breathtaking, I have to say. I felt like a tiny little short person next to their giantess beauty. All the rest of the people we saw were Asian, like everyone else, they were fit and stunningly beautiful.
And there was the beautiful Wendy and me, in the middle of it all.....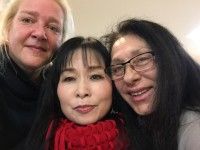 The food they served us, buffet-style, was very different, though there were things like cereal, toast, juice, scrambled eggs....and lots of things I didn't recognize and, to be honest, wasn't feeling crazy adventurous so early in the morning, with practically no sleep, but I said 'what the heck!', and eagerly tried some new things. They were very interesting and different. I know there are many things I would come to love and crave, given time, and I'm super impressed with their creative ways of preparing so many types of sea foods. I *did* recognize the packs of nori and tucked a few in my bag for later snacking.
Koreans like to have soup with all their meals, so there were always 6 soups to choose from each morning. 6 very different soups. I tried a few, my favourite was one that had greens in a broth. Very nice!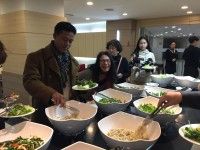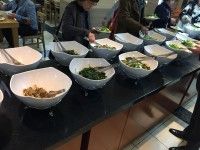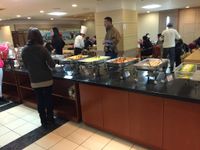 There was a Starbucks in the lobby, which Wendy was very happy to see. For some reason, there is no cream anywhere, that we were able to find out about, to go with hot beverages. Just milk. They have whipped cream, but no plain cream. And they LOVE their coffee! There are coffee shops everywhere!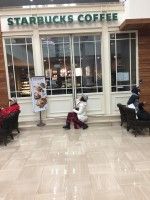 (Even cooler, though; they have these neat little strawberry jelly packs that you fold and squeeze and it's very convenient. And very yummy. We need those here!)
And they recycle with a single-mindedness that I've never experienced. Everywhere. There were no less than 2 people waiting to take your plates and separate all the left over items and trash and used plates and cutlery. I made the mistake of trying to help because I felt weird being waited on so.... completely. And, of course, I helped wrong. But I learned and didn't try to help any more.
Then it was back to the room to have a shower and get ready to drive into Gangeung, about 45 minutes away, for our first show. The shower was fun. There is no shower stall, the bathroom has the bidet/toilet and then a divider then the sink with the hand held shower head in its holder on the wall. All the bathrooms have slip on shoes provided (I read about it before hand and took my own flip flops. I have big o' feet!)
By this time, we had been grouped in with the Malaysian Troupe and did all our traveling and eating and exploring with them. A wonderful, fun group of people! We all loaded up on this crazy, magnificent tour bus. It seemed like all the tour buses were individually owned and that the driver/owner has an obligation to bling the bus up to make it as entertaining and 'beautiful' as possible. Our first bus had a mirrored ceiling, lots of colourful lights, a huge flatscreen tv in the front and a PA system... PA systems being the most important thing in the bus as far as the tour guides are concerned. We stopped for lunch in a small town, Gangreung YeHyang-Hanjoengsik,  on the seaside (we didn't know we were that close to water!) on the way to our first performance. The restaurant was lovely! Once again, we removed our shoes before entering, and were all seated at communal tables that the servers just kept loading up with all sorts of local delicacies, revolving around fish, a small amount of beef/pork, and kimchee and some neat little tubular dumpling-like things that we were told was made out of a gummy starch. All in tiny, communal bowls that you stabbed-served yourself. Back on the road, but first, a pit-stop......the bathroom, which had slip on shoes all lined up outside the door, for the patrons' use, was also communal, which was unexpected, considering the men's urinals were the first thing you passed on your way to a stall. Did I mention it was a busy restaurant? OK! LOL....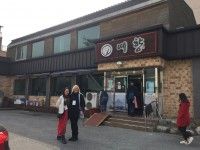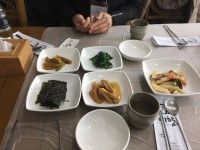 Back on our way, we made a short detour to the beach. Turns out, it's called the East Sea by the Koreans, and the Sea of Japan by most everyone else. I had not realized that Korea had been under Japan's rule for a time, but its evident in the small pagoda-style temples and family graveyards dotting the hills and countryside. The family burial sites have lovely marble benches and meditation areas set way up on hillsides, only reachable by wooden staircases, almost hidden from view.
It was a bit brisk out, but the beach was clean - pristine and beautiful! The most fun was wandering up and down the street, checking out the lone convenience store and the fresh fish market, which was quite interesting and full of some sea creatures I'd never seen and rather like a convenience store, itself. There was also a very cool public bathroom, with sliding frosted glass doors. Then, it was back on the bus to go do our show!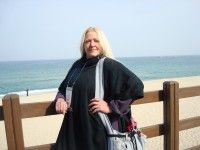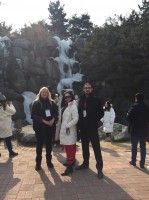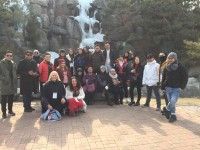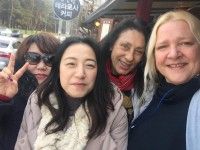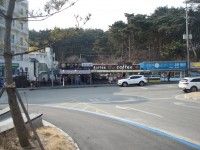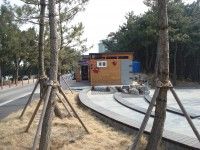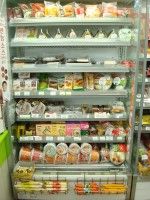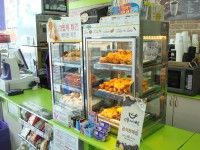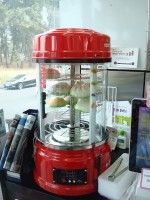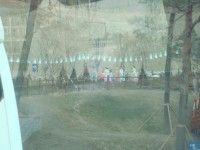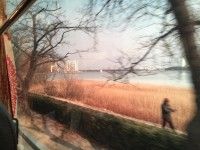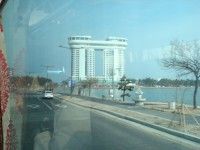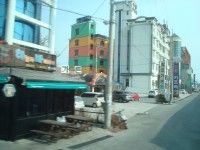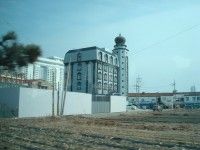 The Olympic Festival Park of Gangreung turned out to be this huge canvas pavilion.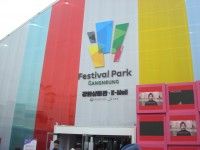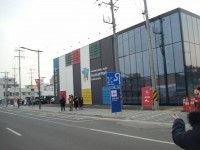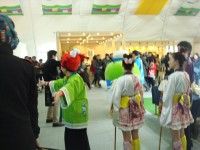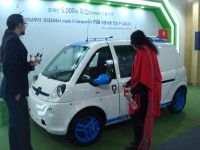 It had vendors of fine (expensive gifts!) products and services. Moving through the long hallway lined with rooms and other exhibition areas off to the sides, we came to this big stadium-seating area with the stage at floor level. This would be where we performed.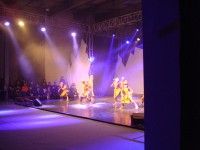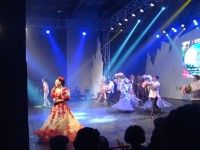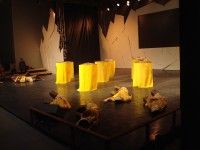 We had to wait to get dressed, but got to watch a bit of the show that was going on. They were all incredibly beautiful. The costuming and stage production was amazing. I believe they were telling a story from their local myths or legends. And dancing. All very well choreographed and put together. I believe we saw the end of Laos' performance and the beginning of the Philippine's. Then, we were rushed into our room to get ready.....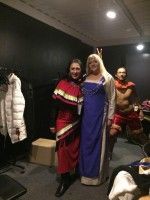 We were all feeling a bit of nerves, I think. I just tried to focus on my make-up, feeling *SO* thankful I had practiced a quick and exact routine in the days before-hand. No time for messes and mistakes! We were all in our own minds, focusing on the ritual of preparation. In a flash, it was time!
We were led behind the curtains behind the back of the stage and waited for the group ahead of us to finish. It was time! We moved out onto the stage and saw that the bleachers were packed full. Lara, our guide, was crouched down in front, cheering us on. We began....the nerves died down and we were in performance mode, into the first song....the energy of audience, their concentration on what we were singing,  buoyed us as they journeyed through our music with us, riding on the waves of stories of far-off foreign lands, a culture they only knew through books and movies, feeling the emotions even if they did not understand the words.  The performance went well and was well-received! And went so quickly! LOL
Dallas' Hoop Dance was outstanding and the crowd went wild! It was very gratifying to be so well received.
Afterwards, after we changed clothes and gathered all our things together and were herded back onto the bus, we found out that we were going to get to go souvenir shopping but were waiting on the husband of one of the coaches for the Malaysian group. Evidently he'd had a ticket to an event and then went shopping afterwards. We waited and waited and when he finally got there, with his stuffed shopping bag, it was too late and we had to get back to our hotel. Needless to say, that man was not in anyone's good graces! I was a bit surprised about how men were treated, having never seen it personally myself. He was not chastised. No one showed him anger for keeping us all waiting on him. I was a bit relieved to see his wife mad at him and giving him the cold shoulder, just to know that there were consequences that he had to deal with from keeping more than 30 people waiting on him and having our outing cancelled because of it. I wanted a t-shirt, dang it! LOL! Foremost in my mind, the whole trip, was the thought, "I'm NOT leaving here without at least a t-shirt!"
For our dinner that night, we were served a very cool boxed dinner that consisted of soup, rice, fish, meat, kimchee and something sweet and desert-like, all little tiny servings in a compartmentalized plate, that we decided to take back to the hotel with us. Once there and our dinner consumed, Wendy and I wandered around a little bit, looking for a drink machine, and found a very cool area for kids that had actual rides and a virtual reality pod you climbed into....we're not sure what all happened in there, we didn't want to spend any money to find out. We did decide to have a nightcap, and managed to slip into the hotel bar for a drink before they closed for the night. It was a very different experience, as no-one spoke English and we had to do sign language and pointing to communicate. My glass of Jack Daniels tasted just like it should, so all was good. The swivel stick was quite nice and I was going to keep it as a souvenir, but it turned out that that greatly upset the waitress, who retrieved it and took it behind the bar to wash it and put it away. Hm, it *was* nice...Anyways, morning was going to be there too soon again, time to climb in bed and not sleep some more!
 

Day 3, Sunday, February 11, 2018:

Sunday Morning........came way too early. Jumped up to pack and shower before breakfast as departure was at 7:30 - to the venue and then, after our performance, back to Seoul. This time, I at least had my name tag on! But, I was not going to put on full face paint until showtime, so, once again everyone was treated to me in casual clothes, as I was. By now we were just part of the gang and loving every bit of it. Had breakfast, ran back to the room and got our bags and then down to the lobby to load up and head to the Gangreung Art Centre. This time, we were on a different bus as we were heading straight to Seoul after our performance. They let us off quite a distance from the theatre so we had to walk and carry/drag all our belongings with us. SO glad I packed light! Found the theatre....right across the street from the OLYMPIC PARK!!! We ran all our things to our dressing room and begged an hour to go buy souvenirs! For 2000 wan, roughly the equivalent of $2 Canadian, we got to go in. There was the arena where all the skating was going on (which we couldn't go in without a ticket to an event), another big building and the souvenir building. Got some t-shirts!! YES! And a small, stuffed mascot, named Soohorang (which means protection tiger. The white tiger is considered the Guardian Animal of Korea) and a couple of other things.....then, lo and behold, right there....was a McDonald's. Now, I'm not a regular at the golden arches, but I have to tell you, all I could think about was a hot order of fries. We sprinted towards it, giggling like mad school girls.....and it was as heavenly, no, MORE heavenly than I could have imagined. It was wonderful!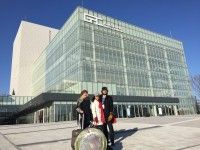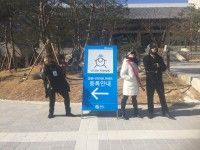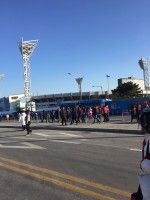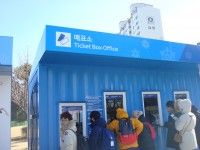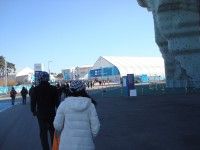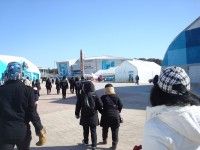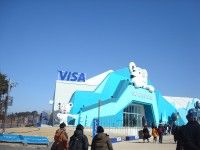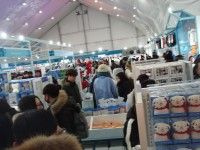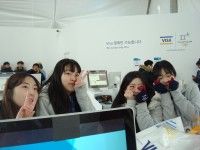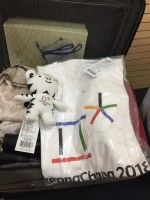 Thus satiated, we made out way back to the theatre and to get ready. We had already done our sound-check, so we knew what the theatre looked like and what to expect. The acoustics were incredible and I have to say I was feeling very pampered with all the stage hands doing everything for us. It was a much different set-up than the show the previous day. This time we were on a big, raised stage and the audience looked up at us. A very cool thing I have to tell you about is how Dallas learned Korean while we were there. Enough to have a conversation and flirt like a fiend! From the moment we landed, he was recording and practicing words and phrases and then using them on everyone we met, walked past, dealt with. The man introduced us to the crowd in Korean. He made them laugh! It was amazing to see unfold, I have to tell you! I was and am very impressed. The Korean people seemed impressed. It was truly very cool.
(I have a professional video that I am posting, of this second performance. We found out afterwards that both performances were broadcast, live, to all of Korea)
As we waited in the wings and listened to the group ahead of us, a school-aged group from Japan, playing their traditional stringed instruments (called Koto, I believe), I felt a peace settle over me, displacing the nervous tension that had held me in its grip for the previous few hours. It was going to be a good show. We performed for the Prime Minister of Japan, Shinzo Abe, the Mayor of Calgary, His Worship Naheed Nenshi, and the Deputy Premier of Alberta, The Honourable Sarah Hoffman.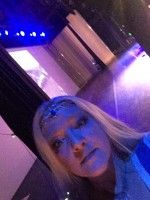 The group ahead of us finished and we waited, nerves tingling, for the stage to be cleared. The lights went down and we quietly walked onto the stage, taking our places in front of the microphones. The lights came up, fire red splashing against the backdrop. The plaintive notes of Dallas' flute cut through the pregnant silence, holding the audience in breathless anticipation. As the last note faded, Dallas introduced us in Korean, amusing them to laughter. As a hush fell over the audience, our voices rang out in the silence, grabbing their attention and taking them on our journey. They soared as our voices soared, caressing the air around us, leaving them gently in their seats, wanting more. The next half hour was a wondrous blur, weaving our voices in and out, raising the intensity, grounding it when needed. They came with us on our magical ride, embracing all we had to offer, pushing us to give more. We rode the wave to completion, together, almost collapsing in the glorious climax of love and exquisite beauty. I have to tell you, it was a truly spiritual experience.
As you watch the video, in the last song, you'll see us leave the stage, completely spontaneous and unrehearsed, yet in unison. Wendy had had feather earrings and medicine pouches made to hand out and was kind enough to give some to me to hand out, as well. It was glorious fun, moving through the audience, handing out gifts, singing.... What a wonderful and thoughtful thing to do! The audience really seemed to enjoy our performance, clapping along and singing with us on the last song.
Then Dallas came out, the voices of his Native brethren singing out as he deftly placed his hoops and began dancing. Dancing the story of his people, the legends of the animal kingdom and their place in the creation of our world, the dance of his ancestors, honouring all that has come before  and all that is yet to come. The audience was breathless, held in the spell of the dance, held in the rhythm of the drums.
I just want to say that sharing a stage with Wendy Walker has been an experience I will never forget. She has a commanding presence like very few others I have worked with. A force of nature; holding the audience in the palm of her hand and making some of the most amazing speeches, off the cuff. I have been honoured to share the sacred space we made with our music and songs. It's been an education and a privilege. Thank you.
After the performance, we were greeted by Mr. Nenshi and Ms. Hoffman and got to pose on the Olympic dais with them for some pictures.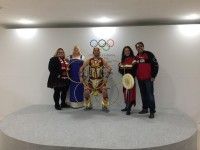 As soon as we were done, we had to hurry up and change and re-pack and get to the bus to get to Seoul! We were running as fast as we could, luggage and all, to get to that bus! Our last 3-hour trip, back to the point of arrival. It had all gone so fast! On the ride, our tour guides kept us very entertained all the way.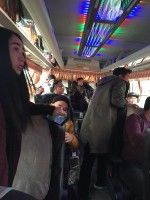 The guide for the Malaysian group, Mimi, was absolutely hilarious. She talked about all sorts of things, historical factoids, tv shows, local flora, sang to us.... Through all of our travels to and from places, I had noticed that the trees and vegetation looked so familiar. Much of the trees are pine trees, just like the kind in the Carolinas. We also saw lots of blue tarps, hundreds, covering something in many of the fields. Turned out it was ginseng, which is only good after it's  6-7 years old, then the potency decreases again. They also grow lots of apple and pear trees, and oranges and mandarins are grown off the southern coast, on an island called Jeju, which is quite tropical.
We stopped at this really cool rest stop that had a big, long building full of nothing but places to eat. All kinds of things you would not imagine. I have pictures....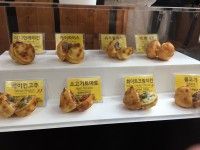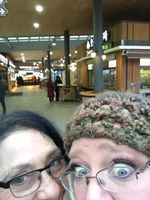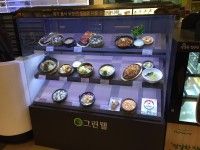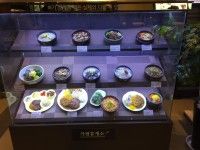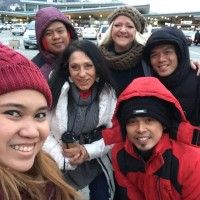 The bathrooms were a bit different, yet again. I had my early years in Europe and a bit of reading up before hand to thank for not being too surprised. The toilets were ceramic slots in the floor. You had to position your feet just right on either side so as not to spoil your shoes and then just squat; it flushed by stepping on a chrome handle on the floor.  At the time I lived in Europe, they were just holes in the cement floor; this was way cooler.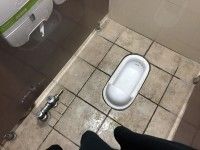 Back on the bus, we all took turns telling stories and sharing songs with each other. At one point, I looked back at Dallas and he was asleep. I have no idea how he slept through all the ruckus! The trip went quickly.
In Seoul, we said goodbye to our Malaysian companions and were let off the bus in the front of our hotel, a very luxurious and beautiful place, The Loisir Hotel. We checked in and then.....oh, the fun! Lara took us out into the city, the huge, pulsing, vibrating with life city, into the tiny alleys behind all the big buildings lining the very wide and busy roads.......*this* was where it all happens....Food carts lining the routes that were too narrow for an average sized car, but that was ok cause it was foot traffic only (we saw a very tiny motorized delivery 'truck' the next day)...Everything you've seen on tv on the travel shows! Things you can't begin to recognize...all for your consumption! Stores! Stores! People standing out front hawking their wares, trying to lure you in.....bright, twinkling lights, dark alcoves and smaller alleys, clothes! shoes! make-up!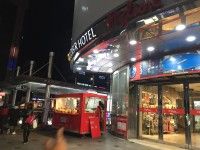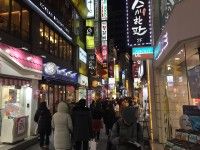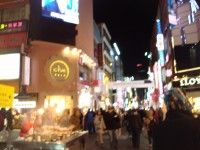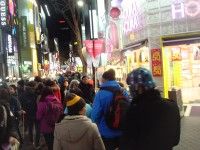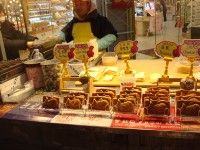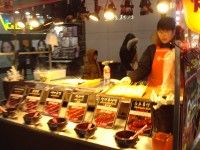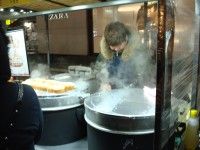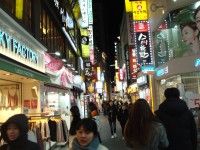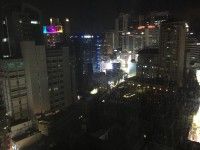 We were let into a narrow building (honestly, they're all narrow, with a different business on each floor - what you see on the street only scratches the surface) that had different places to eat on each floor. We stopped on the fourth floor.....at a dumpling/noodle place. Oh. My. Gods. I've never had anything so good in my whole life. I could have died right then and there. But I wouldn't have been able to eat any more of the deliciousness, so it's a good thing I didn't. Turns out this was one of the stops on an Anthony Bourdain show. 5-star Michelin-rated dumplings and noodles. I can't even......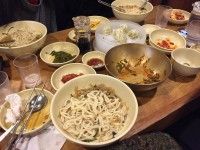 We ate until we could eat no more. Then we ate more. And took the left over dumplings with us for a midnight snack. We left the restaurant through a different door and found ourselves behind the building, where we found a bunch of people smoking. Lara explained to us that smoking in public is forbidden, so they have to hide out of sight to do it. We waddled back to the hotel, stopping to buy postcards to sent home, on the way, very excited for the next morning, as we had been told we would have "free time" in the morning to ourselves......to wander, to shop, to do whatever we wished....just until noon....
At dinner, we had been talking about different foods with Lara. I wondered if she liked to eat octopus and she said that, oh, yes, it was a great dish, that they liked to cut it up and eat it while it was still alive. "When you put the moving pieces in your mouth, it feels like you are kissing." I think I will leave the excitement of that experience to others and stick with the real thing...
Back at the hotel, looking out over the night-time city, with all the lights and buildings below was quite breathtaking, weirdly. The pulse of the city below was palpable.....who had time to sleep? We wanted more! To explore! The bright lights were beckoning us! But, first, a nap.....Dallas, however, ventured bravely out on his own, quickly moving out of sight, swallowed by the crowds moving through the street.
The next morning, looking out, we realized that most of the buildings below us had rooftop gardens. Most homes we passed on our journeys had had gardens, as well.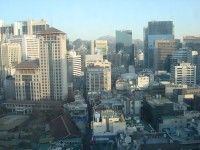 Day 4, Monday, February 12, 2018:

Monday Morning........after a night of only a few hours sleep, but sleep for a few hours I did, and then a lovely shower and breakfast, we headed out on our adventure.....
At breakfast, Wendy and I had written out some of our postcards that we'd found the night before and decided to try to find a post office. This was great fun. The desk clerk gave us a map and marked where we were and where we were going. Looked easy on the map, but stepping out onto the busy 8-lane road in front of the hotel was eye-opening. There were no places to cross the streets! No crosswalks! Then, we discovered what looked like a subway entrance; steps leading down, and figured out that that's how to cross the streets and that there's a whole other world below ground! There are malls and restaurants and all sorts of shopping going on. Anyways, we found our way to the other side and located the post office, a big beautiful piece of architecture. got our postcards mailed and then went back to the hotel (base camp) to get our bearing for a little exploring. It was a lot different than at night, no food carts, less people. We popped into a little bakery and shared a red bean bun (YUM!) and found a cool dollar-type store that had different departments on each floor. First floor, cosmetics. (On a side note, I will say that I've never met people so concerned with a perfect appearance. The number of cosmetic stores was mind-boggling. And, there was one store that has nothing but beauty masks, for every part of your body!). In the cosmetics department, they had a product that make your eyelids have a fold. Hm.
We got some cute souvenir items to remind us of our trip and I got a some gummy candy, for the trip home, of varieties I've not seen since we lived in Germany. Some of it actually made it home.....barely.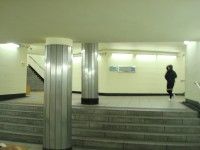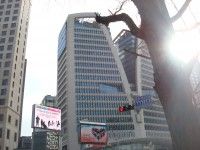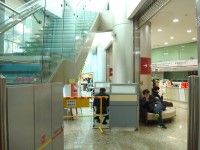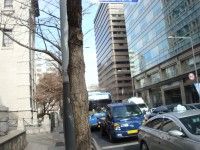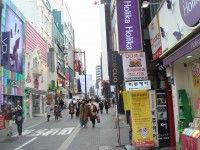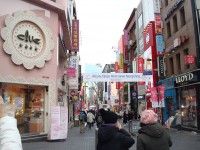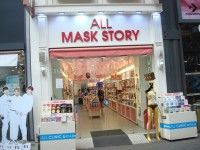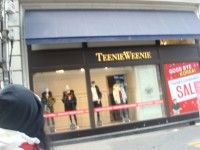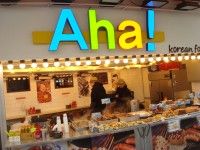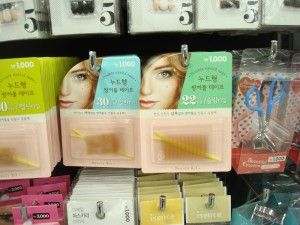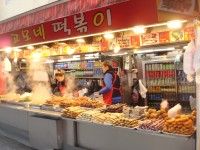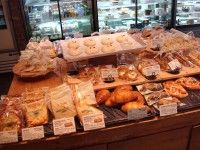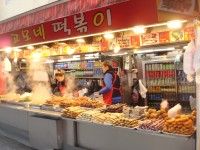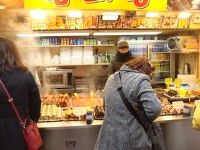 We met up with Lara, and Dallas, who had survived his crazy night-time adventure, at noon, for lunch before leaving for the airport. At lunch, we found out that we had been spared having to stay in Gangreung at the theatre with the rest of the performers until the early hours of the morning. The Mayor of Gangwon Province, Choi Moon-soon, had demanded an audience with all the performers. While our guides were rushing us out (we wondered what all the hurry was!) and not answering their phones, everyone else was held until the mayor got there, at about 2 am, causing several of the troupes to miss their flights home. Lara was very relived she had gotten us out of there in time!
Lunch was yet another interesting affair. This time, it was a buffet-style place, but nothing like we have here, or in the States. No big troughs of food covered with plexi-glass sneeze protectors. Everything was laid out in small amounts, very artistically. There was a line-up of beverage machines, each delivering wonderful concoctions. I had several glasses of a lovely pomegranate juice mixture, though I could have had BEER. Yes, they had a beer dispenser! And it was evidently a Barbie Doll celebration day or something, cause the desert section was all pink and fluffy stuff, strawberry and sprinkles, with  picture of Barbie in the middle.
Oh. Peanut butter ice cream. It's a thing. And it's really good.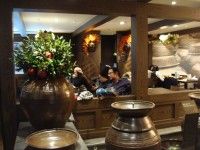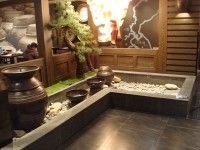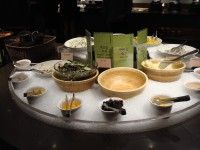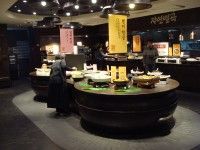 Oh, well! too soon, it was time to head to the airport!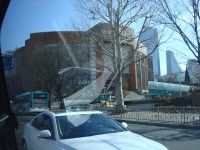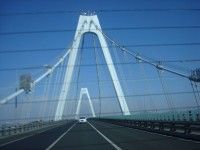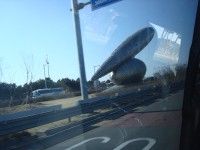 The plane was packed full. I don't think there was an unassigned seat to be found. And 5 babies. All very unhappy with the circumstance in which they'd found themselves. Luckily, the flight home was 2 hours shorter than the flight going there. Still no sleep, read again. We had a very jovial steward that kept plying Wendy and me with alcohol....which we found out on the trip there was free....but, really, all I wanted was some Orange Juice! No vodka.....oh, well...lol.
(Another interesting Korean factoid: There are over 200 kinds of kimchee. They are very proud of their kimchee, the hotness of which varies according to where you are in the country. The closer to the north, the hotter, more southern, milder. Every family has their own recipe and they guard it very carefully. And , they love to be asked about it.)
When we got to Vancouver, the coffee shops had cream again. Wendy was in heaven. And, if you haven't been there, the Vancouver Airport is quite lovely! I'd go there again just to walk around and look at all the art!
 
Day 5, Monday, February 12, 2018:

Arrived in Calgary 2.5 hours before we took off......and we got to re-do Monday, again. It was good to be home. (Little did I know, it would be a good 2 weeks before I really slept again....I was up for 3 more days straight. I did a lot of reading and decompressing)
 
                                 

******************************************************************************

Here we are, 4 months after the journey. What I'm left with is how friendly everyone was. How clean the country was and how proud they are of what they do, even down to the street sweeper. They all have pride in their surroundings and in their country. They have pride in their appearance and in moving forward in the world. Economically and environmentally. A seriously clean place. They are also the most technologically advanced country in the world and believe in exercise of the body, mind and soul. Along the rivers, in communal areas, we saw exercise parks in much the same way as we have children's playgrounds throughout housing communities. Free workouts for everyone!
I'm left with the feeling that we can all work together, in this world. If we focus on the arts and food of each culture, embrace, with open arms, the differences of others. Not as something to fear, but as something to learn and experience. We're all different, and that's a good thing.